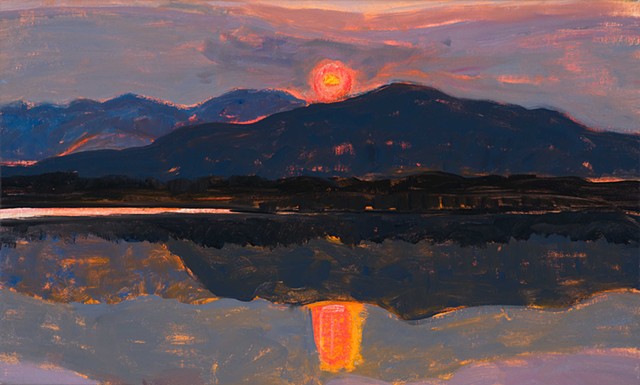 Country Landscape and Catching the Light
After painting the landscape for twenty years I came to a point where I was pulled beyond making a beautiful picture and began to see the trees, the movement of animals, all the rich confusion of nature as metaphors for my own feelings, for the chaos of my life and what's going on in the world. It was then that I climbed into the natural world that surrounds me, merged with it and began to let the brush strokes and the paint speak. I paint what I see.
We have beautiful sunrises and sunsets here in the Hudson Valley, I get great pleasure in painting these scenes. Each day brings something new, every walk along the 'Frying Pan' at the Ashokan reservoir is superbly gorgeous...depending on the light, different. When painting I often come to a crossroads, that difficult point where the work could be ruined or glorious. I've learnt to let nature and the work itself be my guides.
I was born in Dublin, Ireland, in 1960. My love of art was ignited by my grandfather Liam O'Rinn whose paintings I grew up with and where he had his painting studio. I began my formal study of painting at the Dunloghaire School of Art and earned a BFA at the National College of Art and Design, Dublin, Ireland. After making my way to New York City in 1983, to study further, I earned a Masters in Fine Art from Hunter College in 1986. In 2000 I relocated from New York City to the Hudson Valley, where I found the new surroundings visually compelling: the Catskill Mountains, the Ashokan Reservoir, the deer, birds and flora.